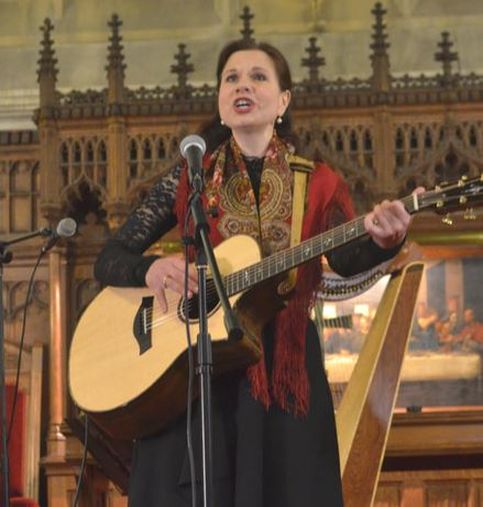 Tatiana Soloviova (PhD MMus Dip.ABRSM) studied History at Moscow State University and, when writing a doctorate on British history, was awarded a scholarship to Lady Margaret Hall, Oxford University. Oxford is where Tatiana lives now.
Education, Research and Conducting
Alongside History, Tatiana studied singing with the late Professor Evgenia Sheveliova at the Russian Academy of Music. She now holds Diplomas of the Associated Board of the Royal Schools of Music in the Teaching of Singing and Piano and a Master of Music degree from Goldsmiths College, University of London, where she specialised in Russian sacred music.
She has published articles on the church music of Sergei Rachmaninoff, Stepan Smolensky, Arvo Pärt, and wrote the historical introduction for the Russian Sacred Music for Choirs published by the Oxford University Press. Her book "Stepan Smolensky and the Golden Age of Russian Sacred Music" is available on Amazon.
For many years Tatiana directed Orthodox Church choirs in Russia and UK.
Performing
Tatiana has been a prize winner at several vocal competitions including the coveted Oxford Music Festival Song Recital, the UK Russian Song Festival and Contest and the Llangollen International Eisteddfod.
She has sung with several choirs, among the highlights are singing Rachmaninoff's 'Vespers' with Encoro in St Martins-in-the-Fields, London, and being a soprano soloist in Handel's oratorio 'Messiah'. Her operatic experience includes Mozart's Barbarina in the 'Marriage of Figaro', Dvorak's Rusalka (during 'Proms by the Pond' with 'Opera Anywhere') and the title role in Menotti's 'Amahl and the Night Visitors' with Oxford Touring Opera. Also, for several years Tatiana sang with a jazz band Swing Time under the leadership of George Haslam.
However, it is in the area of traditional music that Tatiana has found her real interest, singing in Russian, Ukrainian, Czech, Polish, Italian, Spanish, German and English. She has performed with renowned balalaika player Bibs Ekkel, Russian Dance Ensembles "Volga" and "Cossack Show". Now Tatiana is the lead singer with the acoustic trio Strannik (www.StrannikMusic.com) with whom she regularly performs in Oxfordshire and around UK at folk festivals like Broadstairs and Bunkfest. Their album 'Songs From Russia'  was described as "a beautiful set of Russian songs… delightful and educational" , "powerful vocals and sensitive support" (Oxford Daily Info, Shire Folk).
Video: The Little Bell https://youtu.be/eOrdfXkt64U
Teaching and Coaching
Tatiana's main occupation and passion is teaching. For many years she has been teaching singing and piano in Oxford High, Headington and Wychwood schools, as well as privately. During her long teaching career she has prepared many students for grade 8 and Diplomas in Classical Singing and Musical Theatre, and most of them were her pupils from an early age and basic stage.
Tatiana has established herself as one of Oxford's most sought after teachers in singing and musical theatre working with young musicians and budding professionals. She combines teaching singing with piano, guitar, ukulele, music theory and drama.
Tatiana also holds diplomas in Exercise to Music and Counselling / Therapeutic Coaching. The knowledge and expertise that she has gained through achieving these qualifications are hugely beneficial in her work with students: whilst overcoming anxiety, fears and self-esteem issues, they learn mindfulness, relaxation techniques, resilience, the correct use of body; they prepare themselves for stage work and life in general.